Surface Mosaic Design Software supports the processing of mosaic surfaces from design to implementation
Powerful for mosaic surfaces
Surface Mosaic Design Software offers all the tools necessary for the creative needs of the mosaic, from the design with the various design functions to the printing of the complete Reports with specific information for the laying of the sheets.


Artistic and orthogonal mosaic
Our strength is the integration of orthogonal mosaic and artistic mosaic in a single software.
Orthogonal mosaic: fixed grid.

Artistic mosaic: supported by a vector algorithm that allows the tiles to be freedom in the sheet and in the dimensions.
According to a management of levels it is possible to combine the two mosaic techniques, which is why many companies in the sector, Italian and international, have chosen Surface.
Artistic mosaic
The vector algorithm with which has been developed Surface Mosaic Design Software allowes the manual drawing of single tiles and their free disposition in the grid. The Artistic mosaic gets relize in drawings which are often characterized from sinuous trends, for that it requests the manual cut in the final pose.
Orthogonal mosaic
The ortogonale mosaic is arranged with tiles side by side or staggered according to a fixed grid, whose measure is established from manufacturing companies, normally 20x20mm or 10x10mm for tiles. On demand any tile dimensions could to be insert to create the fixing plan.
From the planning to the implementation

The color palette in addition to being the collection of shades available to the company, is divided into categories and sizes of tiles, is implemented with different features, allows you to get specific information and is prepared to search by color code.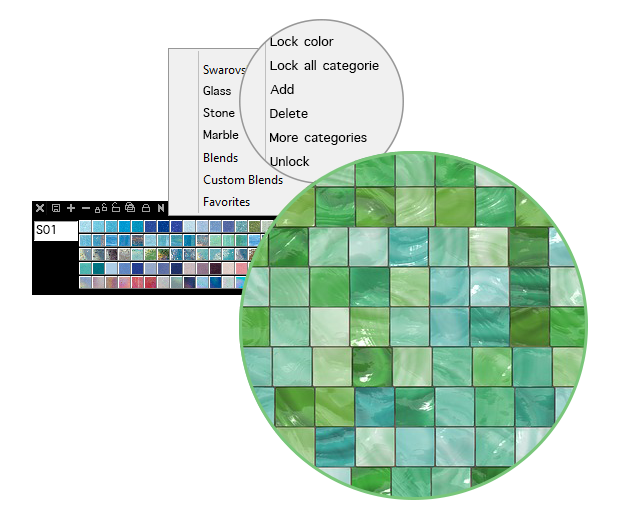 Pattern mode is a function that lightens the timing and manual design of the mosaic design: in a few steps and taking advantage of tiles library already proposed, you create a replicable model for all sheets of installation. A high quality export favors a possible 3D rendering.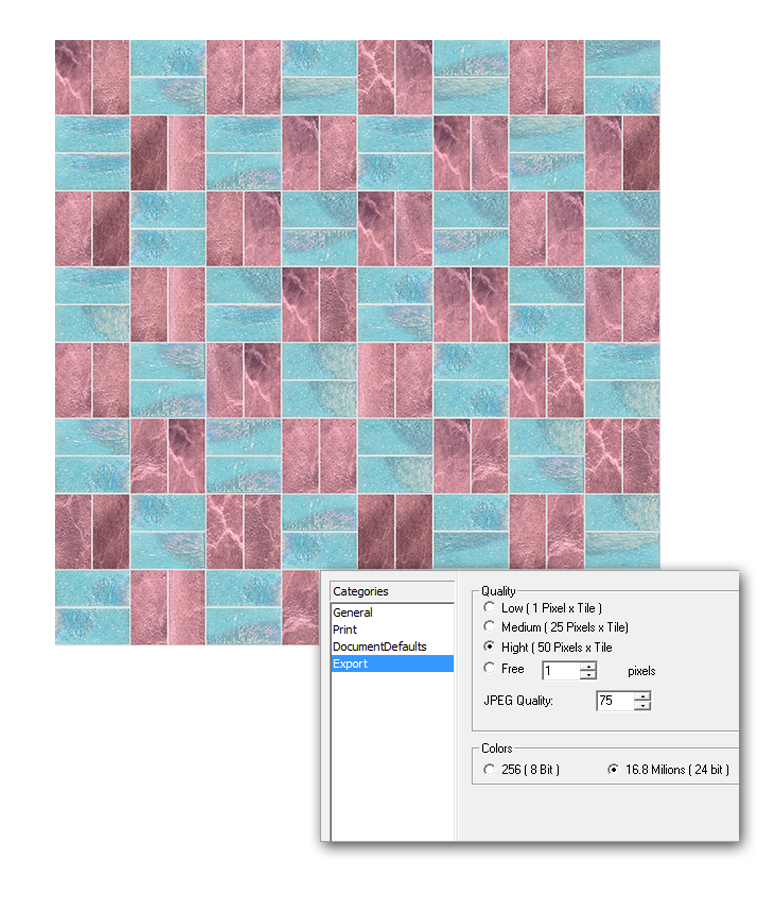 By integrating multiple blends in the color palette a gradient can be created, for which you can change the percentage of quantity single color in the gradation process and determinate the shade direction.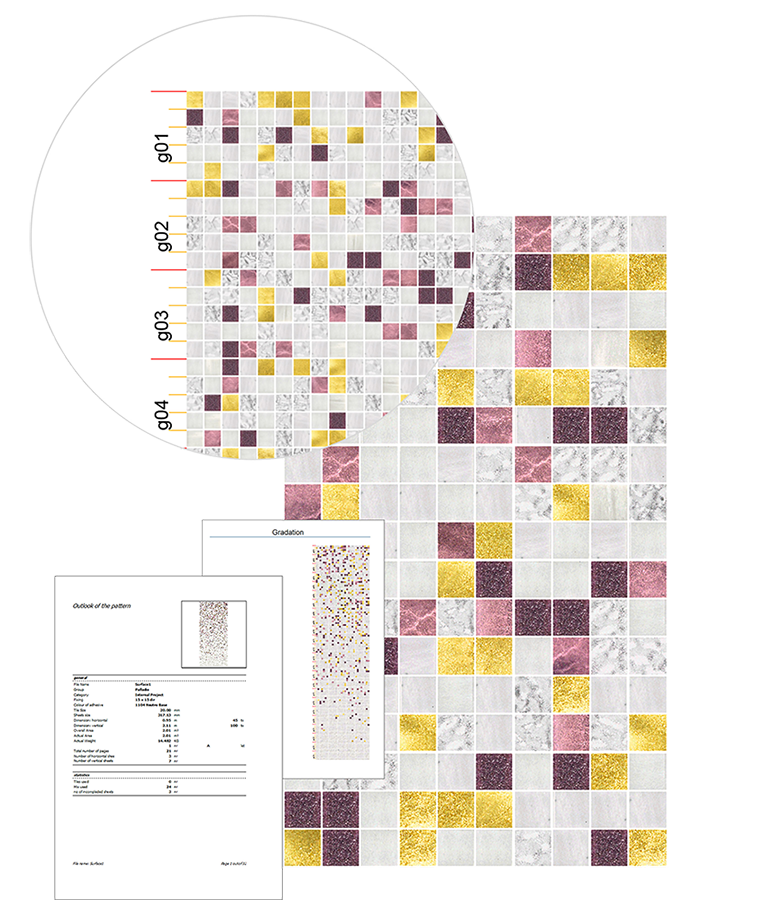 Techniques like mirror, repeat, extract, flip and more functions allows an high speed and dynamicity in the realization of elaborated also complex, as Mandala or Greche.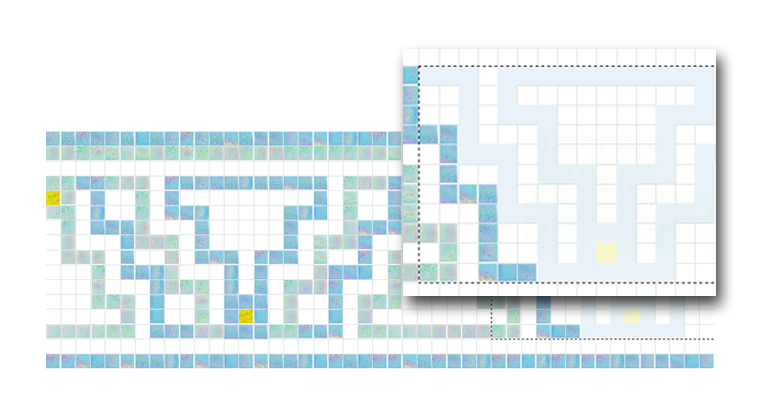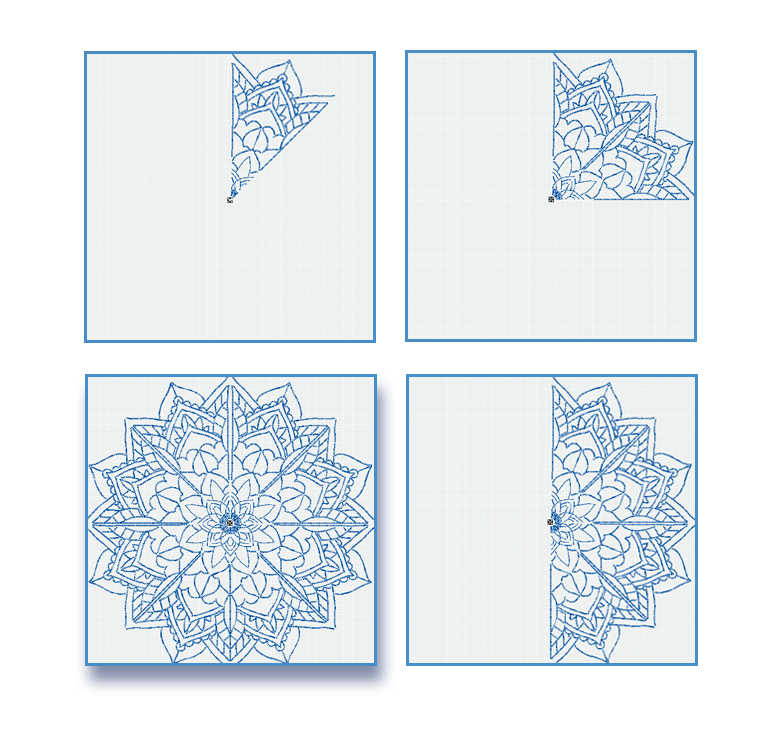 In the design process Surface automatically stores all the specific information necessary for the implementation in the data register. The technical documentation is finished with percentages of colors, codes, laying map, bill of materials and realistic presentation of the design, which will be used for the production and laying of the mosaic, as well as for a 3D rendering.
Training, assistance and development
A training of a few hours with Elena to learn how to use the software from the basics, you will also be given a User manual in pdf and it is guarantees a constant support by e-mail.
Development consists of customizations requests from companies, which also include the company color palette.